Yes, orcs and goblins, I played with this all afternoon and now present to you: low-carb lembas bread for the diabetic Elf or the Paleo Dwarf.
8 slices bacon (or more, to taste. No such thing as too much bacon.)
2 cups almond flour
½ cup ground flaxmeal
4 eggs
4 oz (1 stick) butter
1/2 cup walnuts
1.5 T cinnamon
4 scoops vanilla protein powder (I used Syntrax Nectar vanilla bean whey protein powder)
1/2 cup sugar-free maple syrup, honey or similar sweetener (I used Smuckers sugar-free breakfast syrup)
1/2 cup peanut butter (I used Smart Balance creamy)
1 sugar-free fruit-flavored jello cup (the original recipe said to use 3 pieces of orange peel and 1/4 of an orange, but I didn't have any oranges so I improvised) (also: orange peel? Yuck!)
Preheat oven to 400 degrees.
Cook bacon and chop into small pieces. Set aside.
In blender, combine all ingredients except bacon & flour. Blend until liquefied. Add one cup flour & continue.
Remove mixture from blender, add remaining flour and bacon. Stir until well-blended.
Spread evenly in 15 x 10 cookie sheet or similar baking pan. Bake for 15 minutes, then flip & bake another 10. Score into 24 bars. Each one will have 160 cal, 4g carbs, 13g fat, 9g protein.
Traditional: wrap each bar in large leaves.
Optional: line baking pan with tinfoil. Lay approx. 16 slices of bacon in weaving pattern & bake for 10 minutes. Flip and bake 5 more minutes. Use bacon to wrap bread.
Here's the link to the original recipe, brought to you by Feast of Fiction: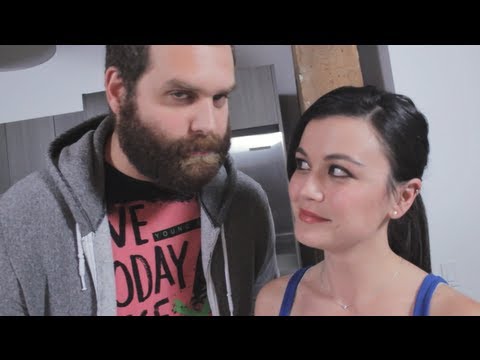 Namárie!