Weighing Food Takes Too Long And is OBSESSIVE!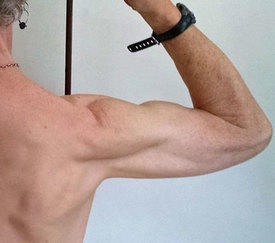 Nah, just kidding. It isn't. It's much more accurate than estimating, and
much quicker and easier
than measuring with cups and spoons.
Whaaat? Yeah! All you need is a few scale-wrangling tricks:
Assembling a salad in a bowl, a stew in a pan, sandwich on a plate? Put the bowl/pan/plate on the scale, zero, add an ingredient, note the weight, zero, add the next ingredient, note the weight . . . .
Using something from a carton or jar, or cutting a slice from a hunk of cheese? Put the container or chunk on the scale, zero, take out portion, note the negative value (it's the amount you took out).
Eating a whole apple, banana, un-hulled strawberries, corn on the cob? Weigh the ready-to-eat food, eat the yummy parts, weigh the core/hulls/peel, subtract & note.
I like to keep a few clean plastic yogurt-tub lids around to weigh small items, like a handful of nuts or chopped hardboiled eggs or something. Drop the lid on the scale, zero, add item, note weight, eat or use - just a quick rinse of the lid under the faucet & you're done.
I also use an old junk-mail envelope to scribble the items while I'm cooking to spare spills on my electronic device, and record the results after.
No measuring spoons to scrape out, or wash, except when you need to measure liquids . . . and you can weigh some of them, too.
Plus a decent scale only costs that $15 or so that you used to spend on a large pizza with all the goodies. You can afford it!
You may do just fine estimating portions when you have a good-sized margin of error, but as you get closer to goal and things get tighter, or your loss starts stalling even though you're
for sure
eating at a deficit, remember this post.
But don't go getting so obsessive you refuse to eat at friends' houses or non-chain restaurants. Go ahead & estimate those. You'll do fine.
Replies
Categories
1.4M

Health, Wellness and Goals

98.3K

Social Corner

941

MyFitnessPal Information