Best Low Carb Bread (No flour was used)
Okay figured I'd make another post since my last title was to long winded and apparently no-one saw it, yet were acquiring about the recipe in another thread. Plus I tweaked the recipe to reflect correct macro's for 17 slices which this accurately produces in a 5 x 9 loaf pan.
The best Low Carb Bread EVER!!!Details:
It tastes like bread, chews like bread, tears like bread, feels like bread, and even toasts great while remaining soft on the inside. And it sure as heck smells like bread while it's baking and afterwards. The flavor reminds me of a white bread crossed with a wheat bread and perhaps a bit of rye bread. Basically It's real bread and uses yeast to rise.
This recipe was created by Diedre, and can be found by googling "Diedra for real low carb bread."
Best of all, the whole loaf comes in at about 29 net carbs, meaning there are about 1.7 net carbs per slice (17 slices per loaf).
Recipe:
1 cup of water - 246 g
1 Tbsp.Saf Instant Yeast ( 11 g )
1 tsp of real honey ( 7 g ) (or Substitute 1 tsp of sugar. (Note the yeast will eat this during rise and isn't counted in the carb count. And if you want to count it, it only add's 0.41 carbs per slice)
2 eggs, slightly beaten, room temperature.
1/2 Cup Oat Fiber - 38 g
2/3 Cup Ground Golden Flax Meal - 84 g
1 1/4 Cup Vital Wheat Gluten - 192 g
1/2 tsp of Xanthum Gum - 1 g
1 tsp of salt - 6 g
2 Tbsp. of softened butter - 28 g


Instructions for Mixer
Microwave 1 cup of water for about 45 seconds until it is 100-110 °F
Pour your honey into the water and mix it around so it dissolves
Add your yeast into the honey water and stir it around
Add in your remaining ingredients in the order listed above
Mix for about Update: I've noticed that kneading it for longer (upwards of 15 minutes) results in a better dough. The end result shouldn't be shaggy looking, and it should bounce back a bit when you push on it with your finger.
Put into a loaf pan, cover with oven-safe saran wrap that has been sprayed with non-stick spray
Microwave 2 cups of water until it begins to boil (about 2 minutes). Keep this in the microwave to make it warm and humid.
Place loaf in the microwave BUT DO NOT TURN IT ON. Leave it in there for Update: 2-3 hours. to allow the dough to rise (You can also use the oven on low. But, again, you are not microwaving the dough -- you're just putting the dough in the microwave while it is off).
Put in oven for 20-25 minutes at 375 degrees.
Pizza Crust Recipe
To make it, you start with the dough listed above, and then:
Use some oat fiber on your counter (to keep the dough from sticking)
Roll it out with a rolling pin like you would do with any other dough
Scatter some coarse corn meal on a wooden pizza peel (one of those big spatula things)
Pre-heat an oven to 550 * F with a pizza stone in it
Brush the crust with olive oil, add toppings, then slide it into the oven with a jerk of the pizza peel onto the stone and bake for 10 to 12 minutes (until crust is brown and cheese is bubbly).
Nutritional InformationWhole Loaf1610 Calories
Total Fat 66 Grams
Total Carbohydrates 97 Grams
Dietary Fiber 68 Grams
NET Carbs 29 Grams
Protein 185 grams
Per Slice (17 per Loaf)94.70 Calories
Total Fat 3.88 Grams
Total Carbohydrates 5.71 Grams
Dietary Fiber 4.00 Grams
NET Carbs 1.70 Grams
Protein 10.88 Gram
And in case anyone was wondering, I pre-slice the entire loaf and double warp it and freeze it. It freezes great, and doesn't stick to each other, so need to anything special. Just Cut it, throw it in a bag, and I double bag just for safe measure.
As for bread machines... That's what I've been using, and I've only made my second loaf just last night. I'm still trying to figure out the best way to do this... And perhaps it turns out better in a loaf pan as per instructions below. I've been shaping my loaf by hand after the initial mixing phase, but I find the beat down phases throw the entire loaf out of wack again, so I also end up shaping it again after the final beat down. But I find I always loose a lot of volume. So on my next try, I'm just going to remove my paddles after the initial mix, then set my rise time for a total of about 1.5 to 2 hours, and leave the loaf undisturbed the whole time. I think I can get significantly higher rise, however if I don't the loaf is already fantastic. So I guess I'll just have to see how that next loaf goes.
Pictures
Note: My boss and co-workers daughter are Type 1 Diabetics, so they each get half a loaf today.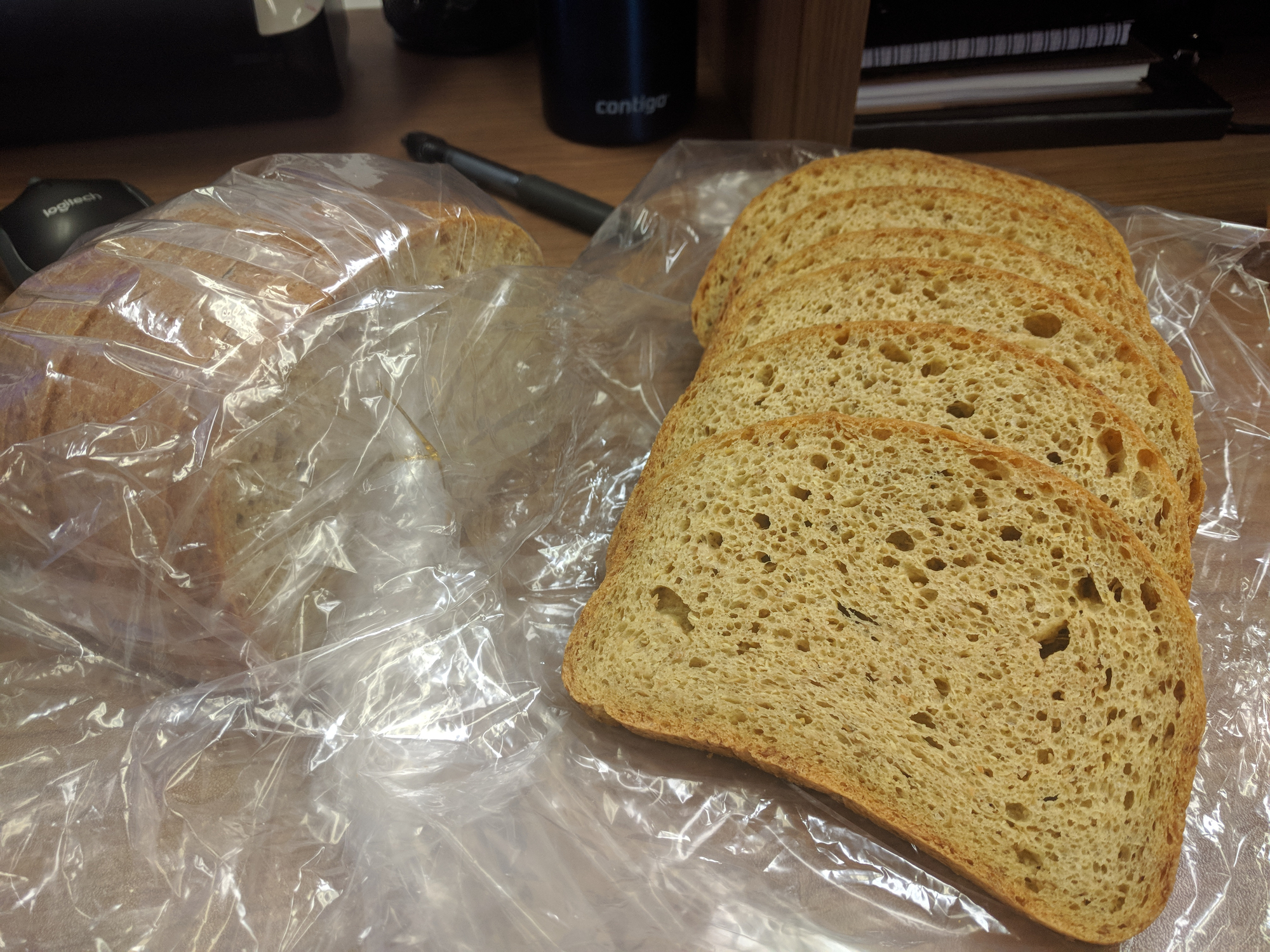 NOTE: Yes that's a Trump Head Stress Ball - Highly recommended. Lol
IF you've been low-carbing for awhile, or are missing bread you really owe it to yourself to try this recipe. I promise it won't disappoint.
As for ingredients, I was able to get most of the ingredients from Amazon, with exception of golden flax seed meal, which is more often then not available at a local health or natural foods store. The only expensive side of this reciepe is the 100% wheat gluten as the Bob's red mill ~600 is only enough for 3 loafs, where as the rest of the ingredients go quite far. However even with that in mind, the cost is 2-3 times less then that of a far inferior in quality, nutrients and overall size of say a commercial product such as "Great Low Carb Bread Company" which I use to think was a god send.
So order the ingredients and get baking.
Replies
Categories
1.4M

Health, Wellness and Goals

98.4K

Social Corner

1.1K

MyFitnessPal Information