Box Gap is F****** Stupid - Article!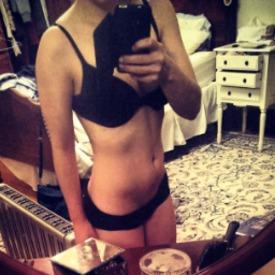 The whole box gap thing is moronic. In 2012, some waste of space decided that the most arousing thing about a woman was an awkwardly-shaped pocket of air between her legs. "**** the breasts and *kitten*," he yelled, staring at a false beacon of hope amidst an anorexic girls clammy thighs. What's more, this little nugget of pseudo-beauty sat dangerously close to the vagina, a hole that serves an actual purpose for men the world over. Just moments later, wiping the drool from his mouth, the air-pocket crusader proudly stamped the 'box gap' title upon this mind-numbingly boring creation. He then set about his daily business, positive the impressionable Tumblr community would gladly nurture another reason to give teenage girls eating disorders. His work was done.
And so here we are. It's 2013 and box gap is a 'thing'. It's now a desirable trait for easy-to-sway females and another way moronic tweens can blur the line between healthy and skinny. I'm sorry (that's a lie) if you're one of the people who push this 'phenomenon', but you're unfortunately misguided. An opening between a girls thighs is not a prerequisite for beauty, nor is it a depiction of sexuality. Each time a girl shuns away from a healthy lifestyle in order to prod open a crevice within her upper legs, people who aren't ****ing stupid roll over in their graves. Nice work, Gen Y.
I know skinny girls who have don't have box gaps and fat girls who do; it's genetics. The width of your hips has a direct correlation with the likelihood of that stupid little opening amidst the meatiest part of your legs ever existing. Punch your mum in the face for giving you bad genes before you get a year-long subscription to Jenny Craig, because if you're not made a certain way, it ain't gonna work. Unfortunately, trying to explain the gene pool to the box gaps target demographic is like telling a vegan refusing to eat meat doesn't make them eligible for a Nobel Peace Prize.
No solace will be found knowing that while you're starving yourself on the celery diet, Gen X is kicking back and laughing at how stupid we all are. The Ys have become so infatuated with internet culture that it's more important to follow a 'thinspiration' page on Instagram than it is to get a gym membership. Forums and fan pages have provided an online hub for your modern day '***** crushing' male to talk about how essential 'the gap' is when he's looking for vagina to 'destroy'. I could be wrong (I'm not), but people who talk about destroying ***** have only ever destroyed their mum's. Do you really want to famish yourself in order to impress a dude whose *kitten* ritual involves waiting until his dad leaves the house to buy him the new Call of Duty?
Real men who like real women don't give a **** about box gap. Put down the celery, champ.
**I DIDN'T WRITE THIS ARTICLE**
Link below..
http://yourfriendshouse.com/2013/box-gap-is-****ing-stupid-2013/
Replies
Categories
1.4M

Health, Wellness and Goals

98.8K

Social Corner

2.8K

MyFitnessPal Information