Marriage Where Only One Person is Watching Calories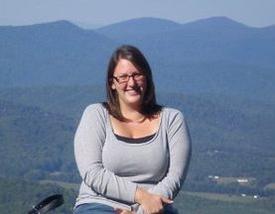 I've been watching my calories for about 3 months now and lost nearly 30 lbs. I'm faithful about eating within my calorie range (1430) and usually for dinner I do low-calorie things like grilled chicken, turkey, seafood, etc with vegetables.

I also do most of the grocery shopping. Lately my husband has been complaining that we're always eating "my" food. I'll be honest and say that I like my food pretty bland and while I'll try new seasonings and stuff, I don't have the time (work full time) or energy (also have a toddler) to make dinner "exciting" AND low calorie. So it's usually a staple of meat and vegetables.

My husband likes to eat crap. Even if I make a healthy dinner, he ends up pouring a 1/2 cup of cheese and sauce over what I make. He frequently wants to cook dinner, but his dinners are carb-loaded bombs of pasta, cream sauce, cheeseburgers, etc so I frequently balk when he suggests cooking and he gets offended if he makes dinner and I eat my own thing.

How can we meet in the middle?

We just had an argument where he said we had "no good breakfast food" in the house. I pointed out that we had Cheerios and Raisin Bran, eggs, cereal bars, and fruit. He ended up going to McDonald's to get breakfast.
Replies
Categories
1.4M

Health, Wellness and Goals

98.4K

Social Corner

1.1K

MyFitnessPal Information