I posted this in the "decluttering thread" but wanted to post it here with a few more pics because I'M SOOOOOOOOOOOOO GLAD/MEGA THRILLED
SOOOOOO H
PPYYYYYYY TO BE DONE/officially entering into the maintenance mode!!!!!!!!!!!!!!!!!!!!!!
NewLIFEstyle4ME last month
Last recorded weight: 137.2 lbs on 12/22/2019
lost 1.4 lbs since last weighing in! Newlifestyle4me's lost 82.6 lbs so far.
REACHED/EXCEEDED my ultimate/ultra/mega/dream goal weight today...Last recorded weight: 134 lbs on 1/23/2020
lost 3.2 lbs since last weighing in! Newlifestyle4me's
lost 85.8 lb
s so far.
These are tears of JOY
and so much more. Seriously, the last 10 pounds were just as tough as all of the big ole AH-MAZING total of 85.8 pounds/ounces and inches. I DID IT! It took over 7 years AND 31 days (31 days to blast the last 3.2lbs) to get here ( I started the I MEAN BUSINESS lifestyle change of decluttering AND weight blastification in Nov-Dec of 2017--so about a 9 months to a year + to blast and achieve my first dream goal of 150lbs (69lbs) and then another 9 months to a YEAR to blast the rest to FINALLY blast forever to the place where the sun will NEVER shine,185.8lbs--but 7+ LONG/HARD/MISERABLE years of trying/when I first joined Mfp in February of 2012), but here I am.
I purchased these "special victory/goal achieved slippers" when I was around 190lbs over two years ago and have never worn then until TODAY...just waiting until I reached the phenomenal goal weight of 135lbs to wear them and BOOM--I'm at 134lbs--BETTER than my dream goal weight.
I'm now DONE
with the weight-blastification and officially into maintenance now.
Thank you Lord
, I'm DONE!!!!!!!!!!!!
Here's some receipts:
BEFORE--this is the lowest scale pic I could find, but my highest weight was 219.8lbs_
P.S. The answer is YES, period.
These are some recent pics of me (in a size 6) One of the pics is me in one with both legs in one leg of the size 20w I used to have to squeeze to get into a couple of years ago!

Look at how TINY these size 6's are...WOW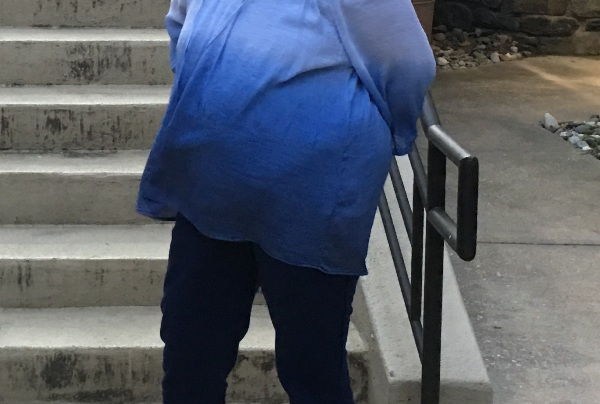 Me a couple/few years ago not sure if these are the same size 20w jeans above, but I DO remember having to struggle to get these jeans buttoned--they were so TIGHT in the waist
Me with my now two legs inside ONE pant leg of the 20w
Me a month or so ago