ONE YEAR, 80lbs lost! Notes and Pictures
On March 1st, 2011 I decided to try something new to lose weight. I didn't know what it'd be, but I figured there had to be an app for it. I found myfitnesspal and it's changed my life.
I'd like to share some of my thoughts and experiences over the last year and, of course, a few pictures. This will be a long post, so I'll start with stats and pictures and if anyone wants to read further, feel free!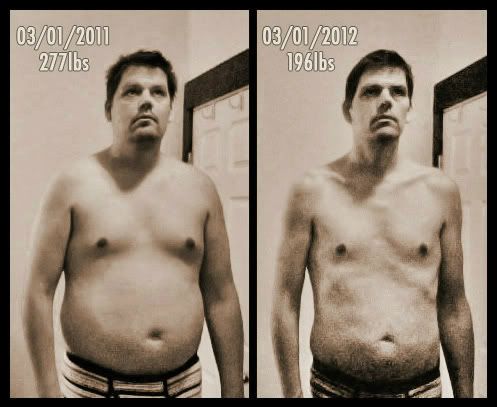 March 1st, 2011
Age: 35
Height: 6'7"
Weight: 277 pounds
March 1st, 2012
Age: 36
Height: 6'7"
Weight: 195.3 pounds
November, 2010. On vacation in NYC. At this point I'd been in the 270s for well over a decade.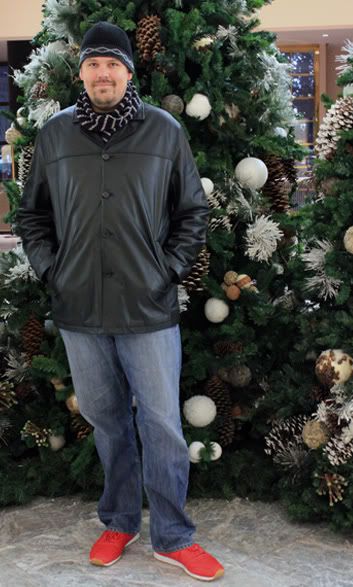 January, 2011. In costume as a drunken slob for a short film. I don't have a drinking problem, but my physique was well-suited for the role.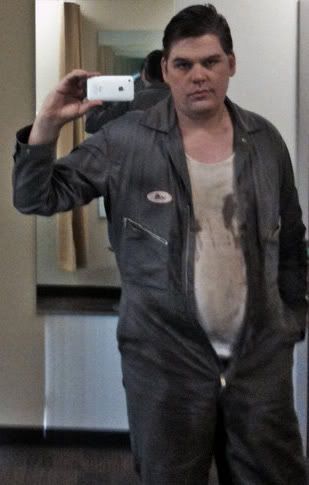 July, 2011. A little over 4 months after starting to count calories, and already I'd lost a significant amount of weight!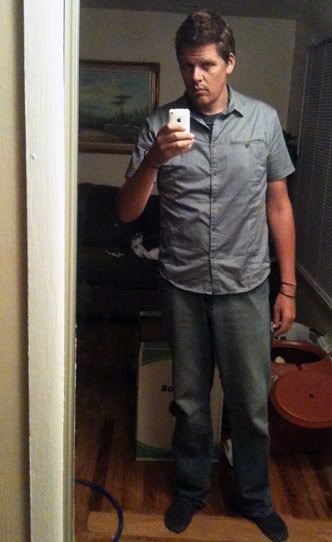 February, 2012. One year, 80 pounds later...
My original goal, which I honestly didn't think I'd achieve, was to lose 50 pounds. That took me about 17 weeks.
Week 1: 277 (March 1st, 2011)
Week 2: 271
Week 3: 266.8
Week 4: 262.6
Week 5: 259.2
Week 6: 253.6
Week 7: 250.2
Week 8: 247.4
Week 9: 244.3
Week 10: 238.1
Week 11: 237.5
Week 12: 234.8
Week 14: 233.1
Week 15: 230.3
Week 16: 228.8
Week 19: 223.6
Once I got under 227, I aimed for 217. This was about what I weighed in high school, nearly 20 years ago.
Week 20: 222.5
Week 24: 215.7
I got under 217…so I took aim at 207.
Week 27: 211.9
Week 31: 209.8
Week 41: 206.8
Maybe I could get under 200? 197 and make it a round 80lbs…
Week 45: 199.4
Week 49: 197
Week 53: 195.3 TODAY
If you'd like to continue reading, I'm going to get a little more in depth about my experience over the past year, plus how I gained all the weight in the first place — and my failed attempts to lose it.
* * * * * * LONG INTERESTING POST BELOW * * * * * *
herrshiro has logged in for 365 days in a row!
I loved seeing this the other day. It's a testament to my dedication and discipline, though it also means I've been on the internet every day for a year. I should unplug more often…spending too much time on computers is part of why I gained so much weight in the first place!
In my early 20s I quit smoking, got a desk job, and I got a home computer/net connection. I'm very tall, so I was able to gain weight and carry it deceptively for awhile, but all of these things added up and I got fat.
I lost about 25-30 pounds a couple of times in my mid/late 20s. The first time I "ate right" and exercised a lot (cardio/treadmills mostly). The eating right part meant cutting out anything I considered unhealthy…which left a lot of salads and water. I lost weight, but this lifestyle wasn't sustainable — I missed food! So once I fell off the wagon, I gained all the weight back.
In my late-20s I lost a decent amount of weight on Atkins and doing cardio. I ate a lot of buffalo wings at TGIF's! I wasn't starving, so that was nice, but I missed bread and pizza. Oh pizza…I can't live without pizza. I couldn't sustain Atkins, so when I started eating what I wanted again, I gained all the weight back.
Common stories, right? There were a lot of other attempts, but a general "eating right" approach didn't work for me — I like a lot of food that isn't healthy. Plus, I wasn't really controlling portions, so a salad with ranch and croutons wasn't really "eating right" at all. Also, though I enjoy getting into an exercise regimen, I kept fall out of it, and if exercising is the only thing keeping me at a decent weight, I gain everything back.
These days, I eat pizza almost every day. Yes, this can't be very good for me — I'm working on it. But I'm eating pizza and I've lost weight! Because, now, I don't eat AN ENTIRE LARGE PIZZA in ONE SITTING. I make pita bread pizza, really yummy, and I'm satisfied. Or I eat restaurant pizza, but only a few slices. I love to make chicken tacos, but I don't eat 12 of them now, and I don't overload them with sour cream and cheese. By being mindful of calories, I make educated decisions. I eat, not overeat. And I've really internalized the idea that NOT EVERY MEAL NEEDS TO BE A FEAST.
My first week on MFP was probably the hardest. And I have it easier than a lot of people — my gender and height allow me to eat a lot more calories than many. Still, that week was tough. I got through it though and each week got easier. I loved seeing "if every day was like today, you'd weigh ______ in 5 weeks." And I was exercising a lot more those first couple months, not a ton, but 2 or 3 times a week (cardio, treadmill mostly). In 8 weeks I lost about 20 pounds — and in FOUR MONTHS I'D LOST NEARLY 50 POUNDS! I've continued to lose weight, though I haven't been going to the gym much.
My experience has shown me that the top 3 problems I had were:
#1) Portion size
#2) Frequency of meals/snacks
#3) Type of food
Fixing #1 alone has made a huge difference, and had a big affect on #2. I still don't always eat healthy food (#3), but when I eat junk food now I don't gorge like I used to. Even when I go over my calories, it's nothing compared to how much I used to overeat.
For the last month I haven't been trying to lose weight, just maintain — so I was surprised to find I'd lost 1.7 pounds when I weighed in today. I am much thinner now, but I'm not "in shape" — that will require working out. In fact, I'd like to firm up and add about 20-25 pounds of muscle to my frame. This is my goal for the next year, while still watching my portions / counting calories.
I firmly believe counting calories works and that it's sustainable way to lose weight and keep it off. It is not the ONLY key to good health, eating healthy meals is very important, as is exercise, but it's a crucial key! For those of you who are just starting this journey or are struggling with it, I hope you've found some encouragement here. After a decade of being very overweight and failing to change, I finally did it —
AND YOU CAN DO IT TOO!
Replies
Categories
1.4M

Health, Wellness and Goals

98.6K

Social Corner

2.1K

MyFitnessPal Information