Just for Today ..... Daily Commitment Thread- Start of a new year!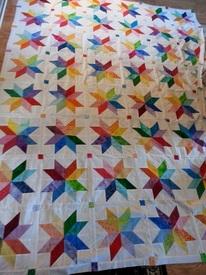 I started a Daily Commitment thread a couple of years ago. But I have been slacking the past few months, so I am starting fresh again today. My weight is at a all-time high. I know I have a lot of old habits that I need to get rid of, and replace these old habits with good, healthy habits.
So I decided rather that keep posting on the old thread, I would start a new thread. A new, fresh start. to take this one day at a time.
Would anyone like to join me daily, in posting our goals for each day? And then come back the next day, and report how we have met those goals, along with goals for that day? That way we are accountable to each other in meeting these goals, changing old habits, one day at a time.
My hope is that if I try and stick with goals, one day at a time, these new goals can become new, healthy, habits.
So since today is January 1st, 2017, here are my goals, Just for Today.
Starting weight: 217.4
Goal weight for Feb 1: 210
Ultimate goal weight: 175
Just for Today:
1. log all food - no matter what I eat. Be accountable.
2. Drink water. Shoot for 6 glasses of water, just for today.
3. Exercise. If only 30 minutes, do something!
Already accomplished this at the gym this morning
4. Get back on here tomorrow, to let you guys know how I did.
Anyone want to join me??
Replies
Categories
1.4M

Health, Wellness and Goals

98.4K

Social Corner

1.5K

MyFitnessPal Information