Has anyone else seen this on the soda fridges in stores?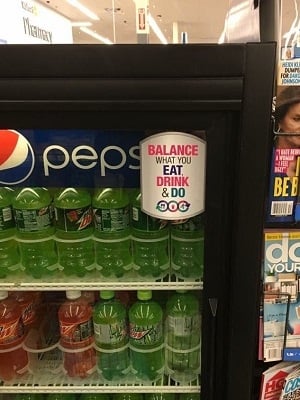 I've seen this "PSA" several times lately while out getting groceries, and I'm just creeped out. I looked it up... they've been funding research and trying to turn public opinion toward exercise as more important than diet in the current obesity epidemic. Since when do Coca Cola and Pepsi unite in concern over consumers' health?
Sorry, guys, but it's clear what you really care about: sales and PROFIT. If you get people to believe the myth that liquid sugar is just a few harmless "extra calories" they need to burn off (not that, for one thing, it independently raises one's risk of diabetes by 11 fold compared to an increase in calories from any other source), you can keep uneducated consumers buying and drinking. Please, just get your nose out of health, nutrition, and research. It's so unscrupulous.
http://journals.plos.org/plosone/article?id=10.1371/journal.pone.0057873