Weird foods/combinations you eat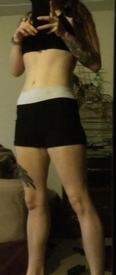 It occured to me this might be fun to find out the "weird" things others eat.

For example, I eat frozen fruit. Tons of it. Just bowls of mixed frozen fruit lol. Frozen mango if its the right type is like delicious soft creamy fudge. Seriously. Discovered this when i had all this fruit for smoothies i never even used because i prefer to chew my food, And it was always way to soggy when thawed.

I also like cheerios and syrup. -shrugs- no explanation for that one its just delicious lol.

And sweet potato fries with chocolate chips/peanutbutter and some cinnamon sugar. That one weirds people out lol

What "weird" foods/combinations have you found? Maybe We can learn some new tricks lol.
Replies
Categories
1.4M

Health, Wellness and Goals

98.8K

Social Corner

2.8K

MyFitnessPal Information