Three years ago today I came home from Rehab.
I suffered a spinal cord injury at age 30, due to genetics and being significantly overweight. I had emergency surgery: laminectomy, discectomy at L4/L5, and decompression of the spinal cord. I was left with cauda equina syndrome, temporarily paralyzed from the waist down and had to live at a rehab hospital to learn to walk again.
I was a stay at home mom of three daughters, at that time they were ages 5, 2, and 9 months old.
After a month I had regained enough sensation and strength to return home with a walker. My neurosurgeon advised me that this could happen again and I needed to lose weight to prevent it. I weighed 270 pounds at 5'8" tall.
That day I signed up for a MFP account. I graduated to a cane and began daily exercise of slowly walking around my block. The first day I walked a quarter mile and it took me 25 minutes. SLOW. But moving. Counting calories worked. I ate about 1600 calories/day.
Each day I added a little more walking. Eventually I could walk for 45-60 minutes without the cane. We joined the YMCA so I could exercise.
During the course of the following year, I lost 100 pounds and began running. I was NEVER a runner, ever. I couldn't even run one lap around the track in high school gym class.
2.5 years after my injury, I ran my first marathon, the Philadelphia Marathon, in 2013. I still can't feel down the back of my right leg and the bottom of my right foot is numb too.
This spring I ran my second marathon, the Pocono Run for the Red Marathon.
I include my kids in my exercise when I can. I'll run while they bike, or I'll push them in the jogging stroller, or haul them behind me on my bike trailer.
Now, I work at the YMCA. I'm a group fitness instructor and I lead the Running Club, and I started up a new class called "Moving with Joy." (that's my name :-) ) This class is couch-to-5k type class where beginners sign up and we train over a 2 month period up to a 5k race at the end of the session. I LOVE teaching this class. I also work as a Y Coach for new members, determining their goals and directing them toward the classes and programs that suit their needs. I get paid to exercise with people! It's awesome!!
A few weeks ago we had a fundraiser where staff members rode on a bike to raise money for the local kids' water safety camp. I rode long and collected donations enough to fully sponsor three kids to attend the camp at no cost to their families!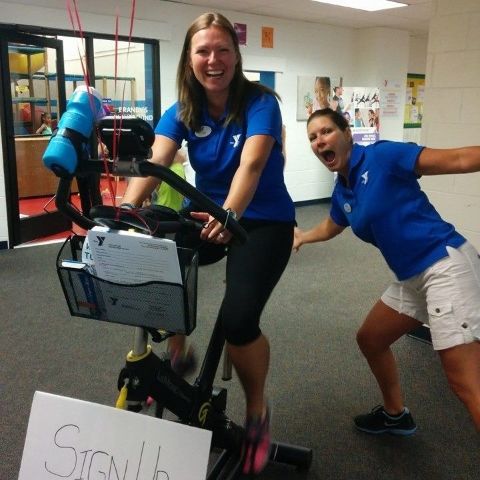 So, here I am this summer at the beach. No longer 270lbs. Much happier, more active and happy to be able to walk...and run!
SO, if I can do it, you can too. For goodness sake I couldn't even walk. Now get out there and MOVE!!! :-)
Joy
Replies
Categories
1.4M

Health, Wellness and Goals

98.5K

Social Corner

1.9K

MyFitnessPal Information