Of refeeds and diet breaks
This thread started as a discussion of refeeds, based on a recent Lyle McDonald podcast (see below), then we brought in diet breaks. Ideally, it should have been the other way around because, for most people, the diet break should come first. Therefore, here is our amended OP!
Preface:
A lot of the strategies discussed in Lyle's podcasts/articles are usually within the context that the dieter is within a range of optimal body fat, from very lean - normal.
https://en.wikipedia.org/wiki/Body_fat_percentage
.
Primarily for the reason that as people get leaner, the more the effects of hormonal downregulation are felt, with leptin being the primary hormone (AKA the "satiety" hormone) discussed (in-depth 6-part series on the subject:
https://bodyrecomposition.com/fat-loss/bodyweight-regulation-leptin-and-more
, but the summary is that signaling tracks along with total body fat, and the less body fat you have, the less leptin (and general hormone)signaling your body sends to accommodate, generally leading to an increase ghrelin (the "hunger" hormone), to get body fat back up for its own comfort.
This is where the subject of refeeds and diet breaks takes place.
*Footnote: anytime the body sees an energy deficit, all metabolic processes down-regulate - body fat levels determine how hard the dieter feels those effects.
Of Refeeds & Diet Breaks - TL;DR Synopsis

Diet breaks are for everyone. People with more body fat can have a longer dieting period than lean people, but diet breaks should still be included every so often to give yourself a break and enjoy life like a normal person; again diet breaks are determined at current body weight maintenance.
Essential reading (it's short): https://bodyrecomposition.com/fat-loss/the-full-diet-break
Observations made in adaptive hormone regulation showed it takes at least 2 days for hormones to respond, so the new refeed recommendations are to extend the refeed period >2+ consecutive days at or just above maintenance OR to have more frequent maintenance refeed days throughout the week (every 2-3 days) with a focus on increased carbs to up-regulate hormone signaling. Watch/listen to the refeeds video (also available as an audio podcast)!!
Diet breaks can be used more frequently during periods of dieting, meaning 1-2 weeks of eating at maintenance (calculated at current body weight) after being on a constant dieting period of an energy deficit. Conversely, the dieting period itself can be reduced as body fat reduces.
"The leaner you are, the less dieting you need."
These two are the general principles as they apply to implement them as a strategy for continuing a dieting cycle when you're already in a state of optimal leanness. The reasons for including them are both physiological and psychological.
The ultimate goal is long-term (life-long) weight loss, as seen by losing excess fat, that achieves optimal health from a personal standpoint
No one should need/want to be on a diet forever, so by breaking the monotony of deficit eating with more flexibility, it actually strengthens adherence to the dieting period
Sometimes long-term maintenance is harder than being in a deficit, so diet breaks and frequent refeeds are also a way to train yourself for eating at an energy balance over an indefinite extended period
Maintenance is going to be subjectively defined as a range of acceptable body weight and body fat levels; maintenance is not a static number and it's going to be a running average of long-term data so trying to put a hard number on TDEE is only a tool to give you an idea of what to aim for. Actual maintenance is going to fluctuate up or down in activity, eating, social events… just life in general.
Other topics that are somewhat related to the thread itself
Dieting strategies will always follow the nutritional hierarchy of importance: calories > macros > micros > nutrient timing > supplements
Exercise, while not necessary for fat loss, has a preference hierarchy as well: strength > cardio (HIIT > LISS). The best physical activity is the one you enjoy the most and that you do consistently. Strength training has benefits well beyond just getting stronger since appropriate strength and muscle activation is required for all physical activity - it supports the sport you prefer
If you are overweight/overfat, focus on fat loss first. Your diet will determine your fat loss and your training will support your diet. The more body fat you carry, the less frequently you need to refeed, but that doesn't mean you should have a rigidly strict long-term deficit either. Refeed strategies for overfat individuals will be determined as current bodyweight caloric maintenance days. There's no need to overfeed since you have enough energy stores to support maintenance.
Diet breaks are for everyone. People with more body fat can have a longer dieting period than lean people, but diet breaks should still be included every so often to give yourself a break and enjoy life like a normal person; again diet breaks are determined at current body weight maintenance. (yes, we are repeating for emphasis…)
Aggressive dieting should not be a goal because it is not sustainable. Larger individuals have enough excess fat stores to support it for some periods, but the more aggressive the deficit, the less time they need to be in a dieting period.
Looking good naked is a wholesome goal to have. While personal health is subjective, do not get sucked into trying to achieve the lowest body fat possible. It is not sustainable nor is it mentally or physically healthy. Plus no one wants to sleep with an anatomy sculpture… unless you do, then good luck because there are hormones lacking in that department once body fat is that low. Just sayin'.
If you have/are recovering from an ED, practicing flexible dieting strategies may be beneficial for long-term satisfaction and quality of life. Structured refeeds and diet breaks can be a tool to incorporate them. Not all health food is healthy and not all junk food is garbage.
Scale weight is not and never will be linear. It will never be the only determinant of actual fat loss. It is only one metric to use. If you have an unhealthy relationship (or may be developing one) with numbers on the scale, remember that it is only the force of gravity and mass. Use other methods available to you (DXA, bodpod, BIA, Skulpt, calipers, tape measure, mirror, clothes, etc) to give you a better view of where you're trending.
Focus on positive achievements instead of negative outcomes if there's a fluctuation or blip in your track record. Happily accepting your new self is more important than what numbers reflect - in the context of achieving optimal body fat.
Learn to take things in stride and don't overly invest too many emotions into the process. Stress disrupts hormone regulation as much as food
Calorie/macro tracking is a good tool to recognize portion sizes and nutrient composition, but there's no good reason to compulsively track everything if it causes triggers for negative emotional thoughts
Credits and recommendations for sources:
Lyle McDonald - www.bodyrecomposition.com (
@mcdonaldlyle)
Aadam Ali - www.physiqonomics.com (
@physiqonomics)
Sohee Lee - www.soheefit.com (
@soheefit)
This thread is chock full of testimonials from those incorporating diet breaks and/or refeeds into their weight loss plan. It is well worth at least skimming some of the ridiculous number of pages. There are photos of cats and dogs if that helps…
---
Excellent and very recent Lyle McDonald podcast looking at refeeds and his latest thinking on them, and how best to utilise. Funnily enough, the five days at deficit with two day refeed he discusses is exactly the approach I'm using for my last couple of kilos.
And before anyone says it without bothering to watch/listen - a refeed is not a goddam 'cheat' day (apparently Lyle hates that term as much as I do!), and it's not a free for all.
Watch, you'll probably learn stuff.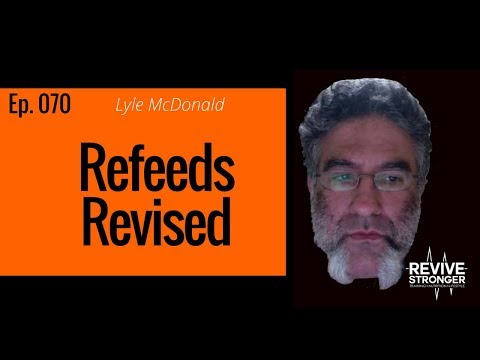 1 hour, 10 minutes long.
Replies
Categories
1.4M

Health, Wellness and Goals

98.5K

Social Corner

1.7K

MyFitnessPal Information